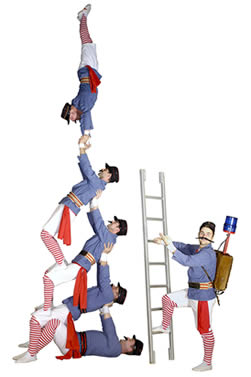 HERKULES is an acrobatics group from the Hinterthurgau region in Switzerland which has been active since 1960. The seven acrobats are composed of former artistic and apparatus gymnasts.
This perfect mix of acrobatics and comedy consistently amazes both young and old, leaving audiences thrilled and delighted. The diverse spectacle includes original and special apparatus, costumes and props, as well as skilful interpretations of multifaceted music pieces and breathtaking human pyramids.
Years of stage experience and professionalism have brought HERKULES to fame and turned them into one of the best acrobatics groups around.
Where did the name HERKULES actually come from?
HERKULES was a Greek demigod – a man with great strength and power – and at the time the HERKULES group was founded, it was also the name of a well-known suspender belt brand.